Our core beliefs and most important values
Who we are…
We are an integrated clinic providing a multidisciplinary approach to healthcare. At Lubbock Integrated Medical Institute, our mission is to provide the highest quality progressive care by identifying each patient's goals, recommending options for optimal results.
What we do…
Many conditions take years to develop. We value what is best for the patient and give recommendations on the highest level of service. We produce remarkable results by providing the latest technologies to deliver the highest quality of care. 
How we do it…
We make proper recommendations using a collaborative effort by medical and chiropractic staff to identify the underlying cause of a patient's issue. We then allow the patient to choose a level of care that best works for them.
Our philosophy…
We believe that patients have a choice when it comes to their healthcare. That each patient has the right to achieve the greatest health benefit possible.
That patients have a right to choose which treatment options are best for them and what treatment goals they want to pursue.

That patients have a right to know what things are going to cost ahead of time and that there should be no "surprises" when it comes to their care.

In using the best treatment protocols (best technology, best available research, along with clinical experience) to help each patient reach his/her goals.
We believe in the continuation of care ONLY if the patient is getting the results they desire. Lubbock Integrated Medical Institute: Patient-Centered…Results Driven.
Our Mission…
Is to be patient-centered and results driven.
Each patient's needs with Chiropractic & Medical Care are unique. Lubbock Integrated Medical Institute offers a variety of modalities and leading edge therapies to aid in customized patient therapy.
Patient Centered and Results Driven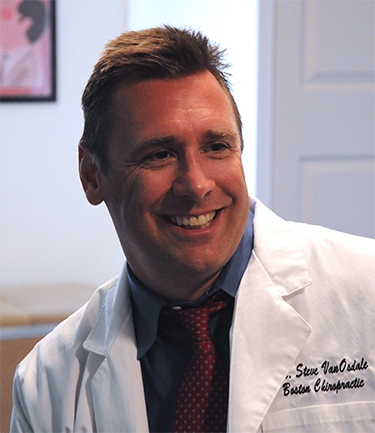 Dr. Steve Van Osdale
Doctor of Chiropractic
Lubbock Integrated Medical Institute
Steve Van Osdale DC, owner of Lubbock Integrated Medical Institute, has been practicing chiropractic in the Lubbock community for 20 years. In addition to his Doctor of Chiropractic Degree from Parker College of Chiropractic in Dallas, TX, Dr. Van Osdale holds a Bachelor of Science Degree in Biology from Judson University, where he also holds the records for fifth most games played and fifth for the most blocked shots in all of Judson's basketball seasons, 1963 to the present. Basketball also took Dr. Van Osdale overseas, via an outreach team that combined athletics with faith sharing. Dr. Van Osdale is an active member of the Lubbock community, supporting a number of programs including: Lubbock Impact, Children's Home of Lubbock, the Lion's Club, Legal aid society of Lubbock's "Get a Grip on Domestic Violence golf tournament," Isaiah 40 Ministries, and Children's Miracle Network of Lubbock.
EDUCATION
Parker University, Dallas, Texas, Doctor of Chiropractic Degree – 1993
Judson University, Elgin, Illinois, Bachelor of Science Degree in Biology
POST-DOCTORAL EDUCATION
Numerous Seminars in Chiropractic technique including:
• Myofascial Release
• Active Isolated Stretching
• Kinesio Taping
• TMJ dysfunction
• Neuromuscular Reeducation
PROFESSIONAL LICENSES
Texas: Doctor of Chiropractic, 1993 to Present
PROFESSIONAL AFFILIATIONS & MEMBERSHIPS
American Chiropractic Association
Texas Chiropractic Association
Coordinator of Internal Affairs for the Texas Chiropractic Association